8 things to consider when buying physician disability insurance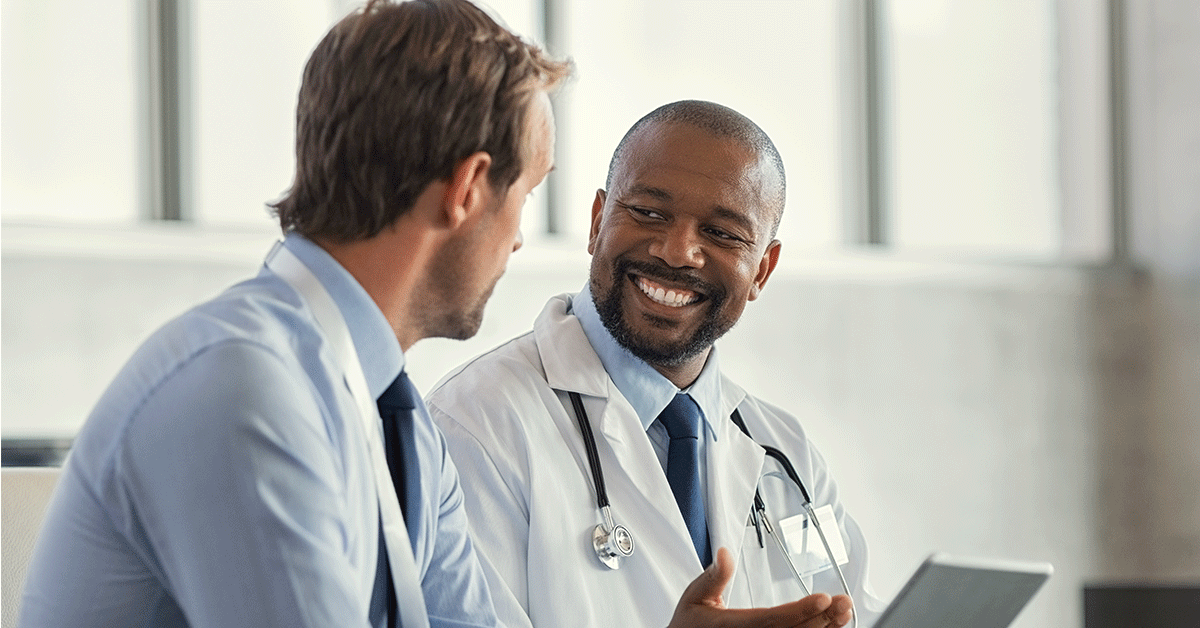 1. Buy coverage when you're young
Buying physician disability insurance when you are young and just starting out makes sense. You shoulder significant risk—debt and limited income—and a disability of any magnitude could quickly result in financial hardship if you are underinsured. Also, the younger you are when you buy your disability insurance, the lower the premiums will be.
2. Definition of disability matters
When buying disability insurance, look for coverage that provides specialty specific protection. Coverage with an 'own-specialty' definition of disability is designed to pay benefits if you cannot perform the work of your medical specialty. A definition of disability that is generic to occupation, like many found in employer provided coverage, might deny benefits if you are physically able to work in another area of medicine.  Knowing the difference in definitions is key to helping you build a broad income protection strategy.
3. Your employer provided group disability insurance may not be enough
Physician disability insurance provided by an employer is good base coverage and is likely paid for with pre-tax dollars. This means that the disability benefits you might receive under that policy would be subject to both federal and state income tax. The payout of monthly disability benefits could turn out to be significantly lower, depending on your federal and state tax bracket. What's more, any disability coverage you receive from your employer is tied to your employment and won't go with you if you leave your job.
4. Know your needs
Buying disability insurance isn't a one-time event, it's important to evaluate your coverage throughout your career. When buying disability income insurance, you should consider your current income, ongoing living expenses, as well as other disability benefits you might receive—like employer offered coverage or any individual coverage you already own—and then choose a monthly benefit accordingly.
An insurance specialist knowledgeable in physician disability insurance can help you assess your needs and options.
5. Don't overlook additional benefits, features, and optional riders
You should also weigh other benefits and features when purchasing disability income insurance. Look for coverage that offers you a future increase option. This may allow you an increase in benefits with no health questions or medical exam in the future as your income increases. Another feature to consider is a student loan payoff provision. This would pay a fixed amount to your lending institution to reduce or pay off your medical school loan debt. This benefit can range from $150,000 to $250,000 and is paid in addition to the monthly benefit specified in the policy.  Often this benefit is only payable should you become completely and permanently disabled.
A cost-of-living adjustment rider, also known as COLA, is an optional add-on rider that will increase your monthly benefit to keep pace with inflation after you are disabled. Another common rider available is a catastrophic disability rider. This rider provides additional funds, above the normal disability benefits, in the event you are unable to perform two of the six activities of daily living. These additional benefits are to help pay for the care needed as a result of your disabling injury or illness.
6. Level vs. stepped premiums
As you shop for disability insurance, you'll have two options when it comes to premiums, level or stepped. Level premiums stay the same throughout the life of the policy. Stepped premiums are structured to start lower and rise at certain intervals, typically in 5-year age bands. Level premiums may seem an attractive option, especially with the ability to 'lock-in' rates, but that appeal may depend on the stage you are at in your career.
When establishing insurance premiums, an insurer assesses the costs and risk of insuring policyholders and then sets the premium accordingly. Those costs and risks are greater with advancing age. With level premiums these higher costs associated with older ages, are "levelized" and spread out across the life of the policy, which means an insured will be paying inflated premiums at the younger ages.
Disability insurance with stepped premiums charge rates based on the actual risk of each banded age group. Stepped premiums result in lower premiums while you're younger, with rates increasing over time. Having lower costs early in your career can help you secure the quality disability income protection you need, while you may be paying off medical student loans and building your practice.
7. There are different types of disability insurance
There are several distinctions to understand about the type of disability insurance you will encounter during your career—group disability insurance, association group disability insurance, and individual disability insurance.  The key to building a solid income protection strategy with physician disability insurance is to understand that these types of insurance are not mutually exclusive—it's not one or the other. A strong insurance portfolio often layers different types of disability income insurance in order to provide you with the broadest protection possible. An insurance specialist knowledgeable about physician disability income insurance can help you find coverage that best meets your needs.
If you are an employed physician, the group disability insurance you likely will have as part of your employee benefits program offers a baseline of coverage. Employer group disability insurance is typically reasonably priced and offers benefits that are often one-size-fits-all. In most cases, this type of disability insurance won't offer you the level of income protection you may need, leaving a portion of your income unprotected. Supplementing your employer-provided disability income insurance may help to fill in any gaps in coverage.
Individual disability insurance, often referred to as IDI, typically offers level premiums that are guaranteed over the life of the policy. These policies are often non-cancellable as long as the premium payments continue to be made. To keep premiums level over the lifetime of a policy, insurers charge rates higher than the true cost of insurance in order to subsidize the rates for older insureds. This added expense can make individual disability policies less attractive to younger physicians.
Association group insurance is offered through a group, like a medical association or specialty society. These policies typically offer less expensive premiums, especially for younger physicians, and may be an attractive option for those looking for quality coverage at exclusively-priced group rates. Premiums for an association group policy are usually stepped—less expensive in the early years of one's coverage and increasing at specific age bands. This type of disability income insurance appeals to budget-conscious physicians.
You may want to consider pairing different disability insurance coverages together.  In some cases, this approach can help you secure even more coverage – while keeping your overall premium payment lower.
8. Find a trusted source for insurance
There are any number of resources you can turn to for insurance, but how many of them truly specialize in insurance solutions for physicians? The unique character of your career path, years of training, and financial investment require more than off-the-shelf products and services. Tailored physician-focused insurance solutions are recommended throughout your medical career. Finding an insurance specialist with physician specific – experience is an important step in your professional and personal financial journey.
Build an insurance portfolio to help protect your income
The average duration of a disability claim is nearly three years, 34.6 months.* Without the right level of physician disability insurance to protect your family, the financial impact of your lost income could be felt immediately and have long term consequences. Insurance should be foundational to your overall financial strategy with physician disability income insurance as the cornerstone. Build an insurance portfolio in line with your career stage and personal financial goals and circumstances. Seek out a trusted resource for quality insurance protection to help safeguard your financial future.
* The Council for Disability Awareness, 'Overview,' 2022 https://disabilitycanhappen.org/overview/
SMRU #1766472